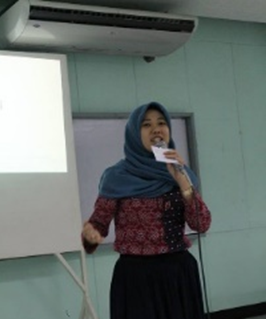 Being a SHARE Scholarship Grantee in UPLB – Hi! I am Meilisa Andini, an exchange student of SHARE Scholarship from Bogor Agricultural University (IPB), Indonesia. I was a SHARE scholarship grantee batch II for one semester in University of the Philippines, Los Banos. It was started on the January 6th 2017, I was helped by OIL UPLB to choose some subjects for one semester. Then, I took 3 subjects, personnel management, managerial economics, and agricultural marketing. I was so glad knowing that almost all professor taught me in English, so I could understand easily. Concurrently, I was also surprised at that time that they were really fine to have a teaching and learning-process in English, and that's the difference from Indonesia. Even sometimes they forgot my existence in class, and began to speak a little bit in Tagalog. So, I need to ask my professor after class about what she explained about in Tagalog before. My favorite class was agricultural marketing with ma'am Piadozo from Agricultural Economics, because we had a laboratory and long group assignments, which motivated me to always interact with my friends. The subject was very applicative. We learnt how to be a real marketer, how to make strategy in attracting consumers, and etc. I could also feel that there are some different systems between IPB and UPLB. They were really manual in the system of scores transparency and professors' evaluation. In UPLB, the professors would give back the exams a week later so that we would know the results. Whereas in IPB, we could know the results on department website, even it took time sometimes. And the end of the week of semester they always have such an evaluation for professors who taught us for that semester. I was given a book of several performance questions and an answer sheet which was used to answer those questions. Whereas in IPB, we did it online (EPBM online).
Since I just had 3 subjects, I had a lot of chances to travel some places in Philippines. I went to Villa Escrudo with OIL UPLB and SEX-s UP (an organization for Exchange Students). We played Filipino traditional games which were similar to Indonesian's. I also went to Bicol, another region in Philippines. I went there with my 4 other friends, we stayed at my Filipino friend's home. We were going around Bicol for about 4 days. I also tried Filipino foods, like bangus sinigang and bangus sisig. Those are all fish and my favorite Filipino foods ever.
Then, on April, I was invited by AIESEC and SEX-s UP to participate in their events. I became a guest speaker as a UPLB exchange students with Noriko (another exchange student from Tokyo University). I shared about my journey as an exchange student. I persuaded and convinced them that being an exchange student is really fun. After that, for AIESEC, I had a chance to promote my Indonesian culture in Global Village event. It was so amazing, I met another international student such as Japan, African, and Afghanistan. We were asked to present something at that night, so I decided to dance a traditional kid's dance from Indonesia "ampar-ampar pisang" with my two Filipino friends. So, I would like to thank SHARE Scholarship for giving me such a great experience in education, life, and culture for me.